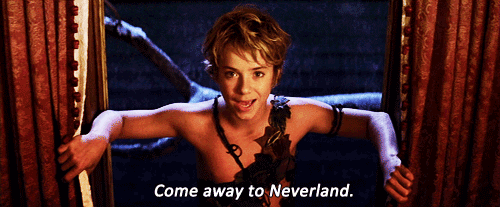 Peter Pan is a young boy who does not want to grow up, and lives in Neverland. He is brave, determined, cocky, and optimistic as he is only able to think happy thoughts. He develops romantic feelings for Wendy, clearly evident when Hook torments him by insinuating Wendy will forget about him and he will be replaced by a husband. He cares about Tink even though he gets angry at her, and attempts to revive her after she drinks the poison to save his life. He wants to always be a young boy who has everlasting fun and adventure. Unlike other versions, Peter Pan's own feelings, emotions and even mere presence affect various aspects of the weather.
Romantic life
You know that place between sleep and awake

the place where you can still remember dreaming?

That's where I'll always love you 

That's where I'll be waiting.