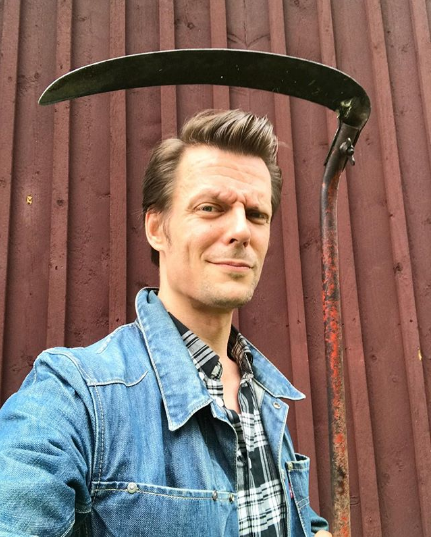 Age: 41 (November 18, 1970)
Relationship Status: Single (Divorced)
Occupation: Magician, Entertainer
Currently Living: Riverport, Massachusetts 
Sexuality: ??? 
Nationality: Finnish
Species: Human
----
Risto Laaksonen is a magician. He spends his time crafting his illusions for shows and small crowds. He's an enigma, struggling with broken English, yet he tries, doing his best to make it well known just who is the best at his job.
His early work was accompanied by his wife, a talented woman who created some of the greatest magic shows of the nineties. He spent his time with her loving her, keeping her close. But the taste of fame would start to weigh on him. He became hungry for more money, exhausting himself for the perfect show, and would end up driving away his muse.
That was twenty years ago.
Risto is an entertainer, he spends his time making people smile and laugh, and works on crafting the bes shows he can. Now that the hunger for magic has died down, he spends his time working on small projects. Occasionally he reappears as the great magician he once was, and other times with a stage name. His fame has bled him dry, and he finds odd jobs here and there to keep up his bills.
And he's never stopped being the greatest.
----
Risto is a clairvoyant and uses his powers to make money on the side as a psychic.
----
Risto is an original character
2016-2017
His FC is Sam Lake
Profile Style (customize your page with CSS here!)
/* unvisited link */ a:link { color: #ae83cf; } /* visited link */ a:visited { color: #ae83cf; } /* Header Picture */ .banner-header{ width: 100% !Important; height: 500px !Important; background-image:url(https://i.pinimg.com/564x/2a/3f/15/2a3f15b4b7c6d8a9f73e918d56e4588e--neon-lamp-purple-aesthetic.jpg) !Important; background-repeat: no-repeat !important; background-position: center !Important; background-size: 100% 100% !important; } /***** THEME BACKGROUND*****/ body { background: #000000 url(http://lakeviewpsychicreadings.com/wp-content/uploads/2016/06/bigstock-Night-Sky-Stars-Background-88704050.jpg) center fixed !important; } .sheet { border-radius: 0px; border-color: #140b14; border-width: 1px; background-color: #222222!important; background-opacity: .5px; } .banner-box{ display:none !Important; } /* center column */ .span12.push4.tablet16.mobile16.column.column-wide{ width: 1250px !important; max-width: 90% !important; left: 5% !important; position: relative !Important } /* Hides Social Buttons */ .banner-socialActions{ display:none !Important; } /* Hides Friends List */ .section-member-friends{ Display: none !Important; } /* hides recent activity */ .section-member-activity{ display: none !important; } /* Hides your blog posts on your profile */ .section-member-discussionEntries{ display:none !important; } /* hides photos on profile */ .grid-frame.sheet.section-member-photoEntries{ display:none !Important; } /* hides blog section on profile */ .section-member-blogEntries{ display:none !important; } div.textbox:hover { background-color: rgba(222,222,222,.5); border: 2px solid rgba(222,222,222,.5); } /* hide about member */ .grid-frame.sheet.section-member-about {display: none!important;} /* hide name in header */ .banner-info.profileCoverArea-bio.media-body {display: none!important;} body{ /* hide avatar in header */ .avatar {display: none!important;} float: left; /* body alignment, right can be used in substitution of left if you want it floating right */ background-color: #000000 !important; /* change the six digit hex and it can be whatever you want */ background-repeat: no-repeat !important; /* if you are using a tiling background, change to Repeat */ background-size: 100% 100% !important; /*this prevents the browser from resizing your background on both the x and y axis*/ background-position: center center !important; /* centers the bg on the page, x & y axis, can also be changed to top, bottom, right, left */ background-attachment: fixed !important; /*prevents the background from scrolling when you scroll the page */ font-family: 'Tahoma', 'Arial', 'Verdana', 'Times New Roman'; /*here you can change your font type, provide more than one in case someone doesn't have your font, they can see it in the next designated font, keeps your page consistent */ font-size: 12px; /*here you can change your font size , this only affects the body, not headers */ font-weight: normal; /* you can use Bold, Italic */ color: #ffffff;} /*change the 6 digit hex to change font color */ !Important; /* insert the url to your background here */ background-repeat: no-repeat !important; /* if you are using a tiling background, change to Repeat */ background-size: 100% 100% !important; /*this prevents the browser from resizing your background on both the x and y axis*/ background-position: center center !important; /* centers the bg on the page, x & y axis, can also be changed to top, bottom, right, left */ background-attachment: fixed !important; /*prevents the background from scrolling when you scroll the page */ font-family: 'Tahoma', 'Arial', 'Verdana', 'Times New Roman'; / font-size: 12px; /* font-weight: normal; / color: #ffffff;} /