(Page Is Work In Progress, But RPing Is Active)
✞RP/OOC Rules✞ 
I dp not allow drama or meaningfull comments on my page. 
I will not always be online all the time. Because I'm very busy in RL, please leave a comment and be patient. I will get to it as soon as I can.
Haven't been RPing for a while, had some family problems going on and everything. So it might take me a while to get use to my RPing again.
Not very good with ploting, I'm more of a wing it kind of person. Oh well if you have any ideas for our RP, go ahead and tell me. 
✞Character Profile✞
✞Human Name-- Ryan Steel
✞Face Claim-- Will Estes/Blue Bloods TV Show
✞Angel-- Sabrael (Guardian Of Valor Heavens)
✞Age-- 8000 but in human form he's around his late 20's.
✞Eye Color-- Hazel, but will change into a gold color. If something dangerous comes or going into his Angel wolf Form or armored Falcon form
✞Personality--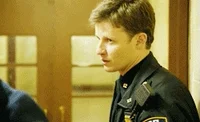 ✞Spieces Type-- Angel  Guardian of the heavens.
✞Real Job-- Gate Keeper Of The Heaven's
✞Human Job-- Police Officer
✞ Wing Span & Color-- It's around 17ft in length. Even the wings have an off whitish gold color to it.
✞Skills And Ability's-- Identify undead, danger senses, adept speed, streagth and endurance, excellant hacker, tracker and hunter. Learned how to use different spells/holy illusions and alchemy/potions. Knows how to use martial arts, and unarmed combat. Swordmanship, and Archmanship, healer.
✞Love Life -- No one 
✞RS-- Single/Woman
✞Born-- Human Year Dec 15 1980's// Original date Unknown
✞Home Town -- Gotham/New York
✞Weapons-- Long golden rod with Enchant Green crystal wings on top. 9mm handgun, and  two short blade holy daggers.
✞Background History✞ 
✞Guardian  Armor✞
A powerful armor which is consealed from inside Sabrael. The story to this fine golden armor, that it was made by The Seven Deadly Angle's Of Dawn. They use a mysterious stone called Goldshade, to forge the armor. Once finished they give it to chosen gate keeper of Valor. This armor is exstremely powerful, it can not be destoryed by man made weapons. 
The only way to destroy it is to have the host energy's weakened from battle or able to get a hold of Orcalla demon saber. But unfortunately the saber was destoryed by Dawn Angle's decades ago. 
✞Weakness & Limitations✞