I am open to new roleplay threads
Threads are Open
Character Relationship Status
Single
Character Appearance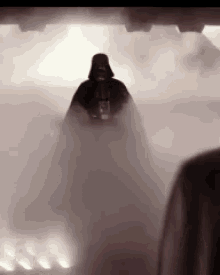 "Lord Vader, this is an unexpected pleasure, we're honoured by your presence."
"You may dispense with the pleasantries."
Darth Vader is fully encoated with a suit of heavy armour, augmented by Sith Alchemy in order to augment Vader's diminished physical strength and vitality. It provided a suite of life-support systems and gave Vader free movement without the need of external appliances. Despite several weaknesses to the suit including electrical discharges and the need of pressurized meditation chambers in order to take his helmet off and survive, the suit grants Vader numerous advantages; including enhanced durability and stamina, sensory enhancements and the ability to survive in intense environmental atmospheres and protection from inhospital environments and biological weaponry.
Character Personality
"I find your lack of Faith disturbing."
After becoming Darth Vader, his personality underwent a drastic change. He was now a rattled man after the betrayal of his loved ones, his comrades in arms and his mentor; Obi-Wan Kenobi. He believed that love was a weakness and was utterly meaningless; a belief that was very prevalent when he ordered the clone of Galen Malek to murder Juno Eclipse during a training session on Kamino.
Vader developed a mental obsession over tracking down and killing Obi-Wan Kenobi, as demonstrated in his slaughter of all the remaining Jedi after Order 66; often executing and viciously interrogating them. However when he finally tracked down Kenobi aboard the Death Star I and killed him, the death was unsatisfying.
"You have failed me for the last time, Admiral."
"You are in command now, Admiral Piett."
Vader has a very low tolerance of failure. On numerous occasions within his army, he has force choked officers and soldiers who had failed in the duties set by him. When one of the officers on the Death Star I questioned the force, he nearly choked him to death without the intervention of Grand Moth Tarkin. Another was when he was tracking down the Rebellion Base of operations after the destruction of the Darth Star I, when the former admiral of his fleet jumped too close to the Hoth system and alerted the Rebels. That time, he successfully force choked him through the montor, and declared that Piett is now the admiral of his fleet.
Writer's Writing Style (OOC)
Paragraph, Multi-Para, No-Preference
Writer's Favored Genres (OOC)
Fantasy, Anime, Comedy, Action, Adventure
About the Writer (OOC)
Enjoys many things from Fantasy, Adventure, Action and Sci-Fi (Absolutely loves Star Wars); to various Video Games, Anime, TV Shows and even films!

Earned points: 2
I Post GIFS

I Have No Life

I'm New Here

WR Knight

WR Guardian

Site Tester

Supporter

Contest Win!

Coding Guru