Nicknames: Blondie, Sam, Sammy
Faceclaim: Hayden Panettiere
Diligent || Considerate || Adventourous
 Themes: Red, wildlife, fire, survival
 P E R S O N A L I T Y

➳ Wild life and animals
➳ Hiking
➳ Gentleness
➳ Honesty
➳ Violence
➳ Pettiness or Revenge
➳ Weakness
➳ Vulnerablilty
➳ Meat
➳ The Supernatural
 Samantha Giddings is rather an extraverted people pleaser, but isn't afraid to stand her moral grounds and stick to her beliefs. She enjoys hanging out with her friends, and isn't afraid to be herself, which is good, as she has always been comfortable in her spunky skin.

Sam also likes to make her choices based on past experiences, facts, personal reflection and her morals. It isn't often that she will compromise her morals to get out of a stressful situation, and is known to look around in said stressful situations for clues. It helps that Samantha has no interest in elvating other's stress levels, being a pacifist at heart.
As far as talents go, Sam is known to be able to sing, but other than that, has not a single artistic bone in her body. She was always good with athletic stuff, even in highschool, where she did track, tennis and sometimes soccer.
Overall, Sam is loyal, thourough, hard working and reliable with the ability to make good choices.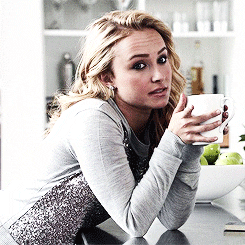 When it comes to appearance, Sam knows she isn't bad looking.
She has long, blonde hair with dirty brown highlights, which she'll keep in some sort of hair do- in a bun, braided, ponytail, ect. Anything to keep it out of her face. Speaking of her face, Sam has a straight nose, with a slightly jutting chin, a strong jaw and sharp cheekbones. Sammy also has green eyes, downturned eyebrows and more lowerset ears.

She is 5'0", with an athletic physique. Her torso and upper body are smaller than her waist and hips definition. She isn't afraid to wear bold colors, such as primary colors, along with patterns that have neautrul tones. Her make up is simple- lipgloss, eyeshadow and eye liner.

Known as Sketchy
Has INFJ personality type
Runs the Witches Account
Fragile! Has B.P.D
Writes Most genres
decently gramatically correct // Multi Paragraph Plotter
Takes time to trust
OWES: JOsh, Dakarai
Awaiting Reply: None
Author Notes
" Hey! Fatty, Over here! " - Samantha giddings
Profile Style (Customize your page with CSS here!)
/* background of page */ body{ background-image: url(https://i.pinimg.com/originals/7c/71/d8/7c71d824ac143bac8ab9c3346534de76.jpg) !important; background-repeat: repeat !important; background-size: 100% 100% !Important; background-position: bottom left !important; } a:link,a:active,a:visited { font-family: Georgia; color: white; } /*Nav Bar*/ .mainTab{ Display: none !Important; } /* hides recent activity */ .section-member-activity{ display: none !important; } /* hides your discussions */ .section-member-discussionEntries{ display:none !important; } /* hides blog section on profile */ .section-member-blogEntries{ display:none !important; } /* hides site name */ .header-siteName{ display:none !important; } /* hides photos on profile */ .grid-frame.sheet.section-member-photoEntries{ display:none !Important; } /* Hides Friends List */ .section-member-friends{ Display: none !Important; } /* hides blog section on profile */ .section-member-blogEntries{ display:none !important; } /* Hides your blog posts on your profile */ .section-member-discussionEntries{ display:none !important; } /* Groups */ .section-member-groups{ display:none !important; } /* Articles */ .section-member-articleEntries{ display:none !important; } /* Header */ .banner-header{ width: 100% !Important; height: 0px !Important; background-color: transparent !important; background-repeat: no-repeat !important; background-size: 100% 100% !important; } /*Hide the header frame*/ .site-headerFrame { display: none!important; } /*Remove the shadow in the Comments Title*/ .module-header { background-image: url() !important; } /* 2nd html section */ .section-member-customizableHtml:nth-child(2){ background-image:url()!Important; Font-family: Gabriola !important; color: #f0a898; background-color: black !Important; max-width: 90% !important; width: 750px !Important; max-height: 350px !Important min-height: 350px !Important; border-color: black !Important; background-size: 100% 100% !Important; box-shadow: 0 0 7px 5px black; } /* 1st html section */ .section-member-customizableHtml:nth-child(1){ Display: none !Important; } /* comment section background pic */ .section-member-commentWall{ background-image:url()!Important; Font-family: Times New Roman !important; color: white; background-color: #668da1 !Important; max-width: 90% !important; width: 750px !Important; max-height: 350px !Important min-height: 350px !Important; border-color:#668da1 !Important; background-size: 100% 100% !Important; box-shadow: 0 0 7px 5px #668da1; } /* Hides about section */ .section-member-about{ display:none !Important; /* social buttons */ .banner-socialActions{ background-image:url()!Important; background-color: transparent !Important; max-width: 90% !important; width: 750px !Important; max-height: 350000px !Important min-height: 350px !Important; border-color: white !Important; background-size: 100% 100% !Important; box-shadow: 0 0 1px 1px white; }
Writer's Writing Style (OOC)
Paragraph, Multi-Para, Novella
Writer's Favored Genres (OOC)
Violence, Rated R, 18+, Gore