Human Shifter
5' 11" | 30 years old (Immortal) | Riverport, Massachusetts 
Chronon Active | Suffers from Chronon Syndrome
Bisexual | Married
2017 - Post Shifter Timeline 
Jack has always been an underachiever. Laid back, content with being passable, he spent his childhood getting into trouble with his best friend Paul Serene. The two were inseparable, often getting in trouble together and finding ways to make things complicated for the both of them. While Paul decided to move on with his life and attend college, Jack himself preferred to travel, spending most of his early twenties in Southeast Asia and visiting temples.
Jack is enhanced now with the ability to manipulate time. Weaker than Paul Serene, he has quickly gained control of his powers despite slowly succumbing to Chronon Syndrome. His symptoms are minor and he is in good control, however his body is reacting quickly to his illness. His anger and hatred for Paul Serene has kept him from asking help for almost a year, however as his symptoms have worsened, he's sought out the help of his former best friend and enemy.
ABILITIES
Time Vision
Jack is able to see into the future and see important objects that stand out in the time line. He can use this ability freely without wearing himself out.
Time Stop
Jack is able to manipulate the chronon field around objects and people to freeze them in time. The only way to avoid being frozen for this moment with no memory of what has occurred during it is by wearing anti-stutter technology or somehow possessing the innate ability to not be affected.The time stop is cast with the throw of a hand. A blue bubble forms around the affected area, an effect of the Chronons being frozen in place. The field will last for ten to fifteen seconds before collapsing. 
Time Dodge
Jack can cause a disruption in time to dash left, right, forward, or back to avoid a direct melee hit. He is able to do this three times before running out of energy and needing to recharge this ability. He cannot be hit while mid-dodge. He cannot fire a weapon while mid-dodge.
Time Rush
Jack can cause and sustain a disruption in time to run an extended length of time while everything else is frozen around him, allowing him to take cover and hide to confuse attackers or get behind them. During this rush, he can also break out of his fracture to melee attack and disable an enemy's Chronon gear to render them unable to move in a stutter or knock them out. He does not have time to kill in this moment, but he can get in a strong hit before he loses control. 
Time Shield
Jack is able to throw up a spherical shield around himself that is capable of deflecting bullets. The shield lasts for 30 seconds total if he maintains it. He can, however, drop the shield and throw it back up and use this time in increments instead. When the shield time has been depleted he must recharge it. It takes him approximately 3 minutes to be able to use the shield briefly again, and 5 before he is recharged fully.  If an enemy tries to breach the shield, they will be caught in the disrupted Chronon field and slow down, giving Jack time to shoot, run, or move.The shield does not move with Jack, an once he exits it, it falls.
(Power descriptions credit to Paul Serene)
Jack is married to Paul, finally, after almost thirty years of knowing one another. At first angry and hurt, Jack wanted nothing to do with Paul after the events of the Fracture, but slowly his feelings of love have crept back up. To say Jack ever had a crush on him is a stretch, but he always cared about Paul, and as time went on those feelings took a different term. Now he can safely say he needs him more than ever, and with his best friend finally back in his life, he finds handling his sickness easier and his life feels just a little more normal.
He loves him. He cares for him. It's all that matters.
On October 26th, less than a year after stopping the fracture, Jack asked Paul to marry him. Paul said yes.
His family consists of two: his husband, and his brother, Dr. William Joyce.
His parents were killed in a car accident when Jack was just sixteen.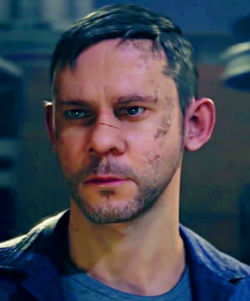 Jack takes treatments to ease his chronon syndrome, however, should he miss a treatment or stop them all together he will revert into his shifter state. Jack hasn't fallennto this monster that is a mess of timelines yet, howveer, there's always a chance he might. Powerful and beyond sane, the shifter form is dangerous to anyone near him. Jack, in this state, will have lost any and all control of himself.
---
SECONDARY CHARACTERS
It's not a Lake
It's an Ocean
Author. 
Husband.
Creator.