"My dear Mina, why are men so noble when we women are so little worthy of them? Here was I almost making fun of this great hearted, true gentleman. I burst into tears, I am afraid, my dear, you will think this a very sloppy letter in more ways than one, and I really felt very badly. Why can't they let a girl marry three men, or as many as want her, and save all this trouble? But this is heresy, and I must not say it."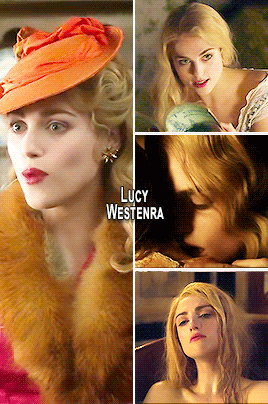 Lucy Westenra is London's sexy, social butterfly with a penchant for gossip, flirting and all things glamorous. She is the daughter of the late Minerva Westenra, the ex-girlfriend of Alastair Harvey, and the ex-best friend of Mina Murray. She is much praised for her beauty, purity, and sweet nature. These qualities earned her three suitors, all of whom propose to her on the same day: Arthur Holmwood, the wealthy son of Lord Godalming; Quincey Morris, an American cowboy; and Dr John Seward, a primitive psychiatrist. Lucy is closer to none other than her best friend Mina Murray. Lucy is extremely beautiful and has captured the eyes of many men, however Lucy always acts disinterested, Lucy introduces Mina to the dregs of low society, taking her to drug dens and so forth. It soon becomes obvious that Lucy is in love with her best friend Mina.
In "Of Monsters and Men", Lucy has dinner with Mina and Harker, and is unimpressed by a magic trick. Lucy leaves the table and finds Jayne Wetherby, who invited her to tea. Lady Wetherby tells Lucy that she knows what it's like "to be denied one's heart's desires." Lucy assumes she means Alexander, and tells Lady Wetherby that she has no interest in him. Lady Wetherby says that she was not talking about Alexander, implying she is aware of Lucy's feelings for Mina. Lucy promptly leaves.When Lucy visits Lady Wetherby for tea. Lady Wetherby apologizes for "embarrassing" her, but tells Lucy that she felt she had to reach out because she has been in a similar position herself. Jayne tells her that such urges are common place, and a "natural part of a woman's maturation". She tells Lucy that Mina may feel the same way about her, and encourages her to confess her feelings. She then kisses Lucy.
Later, Mina tells Lucy about her suspicions that Van Helsing is lying to her. She apologises, saying that Lucy must find the conversation rather "dull", and Lucy says that she does not find it dull because Mina is speaking. Mina says that Lucy is kind to humour her. Seeing this as a sign of Mina's interest in her, Lucy tells Mina that, "It is not kindness, but love", and tries to kiss her.When she admits her true feelings to Mina, Mina is repulsed. After Mina rejects Lucy she seduces Jonathan into sleeping with her and lost her virginity to him. Soon after she feels the guilt.
 In "Four Roses", Lucy speaks to her mother, she begins to cry, as her mother asks her to tell her what's wrong. Eventually, Lucy asks her mother why she never told her that it was normal for women to fall in love with other women.  
"Hello, Lucy. If you insist on behaving like a monster, then I'm going to make you one."
Dracula turned Lucy into a vampire for sleeping with Jonathan. Dracula did this because he is in love with Mina and will punish anyone who hurts her.
A HAMPSTEAD MYSTERY:
"The neighborhood of Hampstead is just at present exercised with a series of events which seem to run on lines parallel to those of what was known to the writers of headlines and "The Kensington Horror," or "The Stabbing Woman," or "The Woman in Black." During the past two or three days several cases have occurred of young children straying from home or neglecting to return from their playing on the Heath. In all these cases the children were too young to give any properly intelligible account of themselves, but the consensus of their excuses is that they had been with a "bloofer lady." It has always been late in the evening when they have been missed, and on two occasions the children have not been found until early in the following morning...
...all who have been missed at night, have been slightly torn or wounded in the throat. The wounds seem such as might be made by a rat or a small dog, and although of not much importance individually, would tend to show that whatever animal inflicts them has a system or method of its own. The police of the division have been instructed to keep a sharp lookout for straying children, especially when very young, in and around Hampstead Heath, and for any stray dog which may be about.."-THE WESTMINSTER GAZETTE, 25 SEPTEMBER 1897
Reports spread of children being attacked at night, each child claiming to have been abducted by a "Bloofer (or Beautiful) Lady". The children also have bite marks on their throats, though none has been seriously drained. Dr Van Helsing realizes that Lucy has now risen again as a vampire, and asks Dr Seward, Arthur and Quincey to help him destroy the undead creature. When they doubt him, Helsing takes Seward to show him first-hand that Lucy's coffin is empty, and then waits until she appears with another child. Luckily, as they watch, she takes only a little blood before flitting back to her crypt. 
THE SECRET HISTORY OF LUCY WESTENRA, VAMPIRE HUNTRESS :
Powers and Abilities:
The supernatural forces that sustain vampires also endow them with enhanced physical abilities as well as powers of mind control. These powers grow stronger with age and consumption of human blood. When they are in their human form they look completely normal. However, when the vampire calls upon their powers or when the vampire is thirsty for blood, their upper and lower canines grow into fangs and their eyes turn blood-red. All of a vampires' powers grow stronger with age and consumption of blood. 
As a vampire Lucy has the abilities of turning her body bat like such as bat like wings under her arms. She also has a rather mist like appearance swirling around her body adding to her already inhuman nature. Lucy is also somewhat immune to religious symbols which, as she explains, needs fate on both sides for a vampire to be repealed. Dracula's brides were turned during an era where their religious beliefs were stronger while she, being turned the the modern era, is strong enough not be fully warded off by it. It clearly still affects her but not to the extent of Dracula's brides. Touching her with it will of course harm her.
Immortality - Vampires are immune to all forms of illnesses, toxins or poisons. Consuming blood will allow them to maintain their vitality. Vampires never age. Vampires stay at the exact state they were in when they were turned into a vampire. Their undead status makes them exempt from both physical aging and other dangers that would kill a living body, such as toxins and diseases. Vampires maintain the youth and health of an attractive young human despite having surpassed the lifespan of an average healthy human.
Super Strength - Vampires are much stronger than humans. About six to ten times stronger than the strongest Olympic athlete. Vampires are strong enough to tear off limbs and rip out throats bare-handed. They can snap chains and even lift vehicles among other feats.
Conventional Harm Immunity - Vampires are immune to all conventional means of harm.
Super Speed - Vampires are much faster than humans. About six to ten times faster than the fastest Olympic athlete.
Super Senses - Vampires can hear, see, and smell, better than humans.
Healing Factor - Vampires can heal faster than humans. Consuming blood speeds up the process.
Psychic Countermeasures - Certain vampires have the power to detect if they are being watched by a Seer and block their sight.
Levitation - Vampires are able to float into the air.
Telepathic Connection - Vampire sires have a connection with the vampires they have sired, allowing them to hear their cries if close enough.
Vampire Creation - Vampires can pass their curse to others by forcing an individual to drink their blood.
Age Empowerment - A vampires powers and abilities get enhanced and more versatile the more older and more ancient they become.
Master Swordswoman - Lucy Westenra is amazingly skilled in swordsmanship, brought about from Dracula's blood, her vampire attributes makes her a even more deadly swordswoman.
Force-sensitive:  Lucy is highly attuned to the mystical energy field known as the Force. She could, with training, learn to sense and manipulate the Force.
Weaknesses:
Sunlight - Prolonged exposure to sunlight will result in death. However, with a solar serum, vampires are able to stand in the sunlight with no ill effects, for a period of up to four hours.
Desiccation - A lack of blood for a prolonged period of time will cause Lucy to weaken and begin to resemble a corpse.
Iron - Iron can be used to contain, injure, and kill vampires.
Decapitation - Severing a vampires head will result in instant death.
Fire - If Lucy is consumed by fire for a prolonged period of time, then she will die.