2 1 0 8
The Faction takes over.
Everyone who doesn't follow under them is outlawed.
Welcome to the seventh realm.
I was just your average cop. 
Fresh out of the academy and only just getting my foot through the door when the OMEGA 3 was put out. The super computer analyzed our moves and we were merely the pawns in a game of chess. We were moving up in the world the news constantly reported, like some chant of success. 
My first partner was an JX 3rd addition. I called him Frank.
He was only an android but he always had my back.
" Function complete, Sir. Shall we ' Hit it?' "
I always laughed.
                                              FILE 88       - BIO - John Weston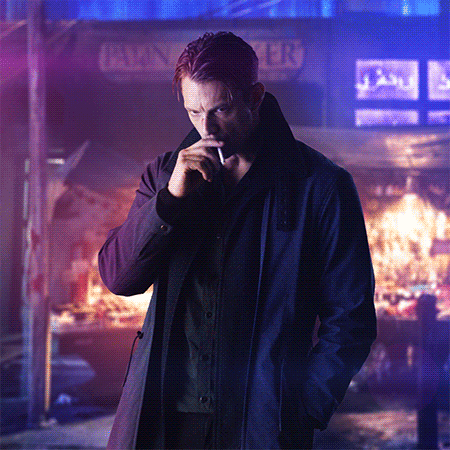 Number: 77889473 
Sex: Male
Age: 36
 Height: 6'3
Weight: 171 lbs
Blood type: O +
 Eyes: Brown
Hair: Dark Brown
DOB- 2- 15- 2072
I had a wife.
Lucia.
I love you to Port Seven and back.
OMEGA 3 did not acknowledge her death.
The super computer had betrayed me for it's own gain and because of this she was one of many who died that day during The Massacre of 01. Shortly after this the Faction moved in. It was OMEGA's plan all along. Humans had become mainly obsolete and if you did not follow it's code you were cast out and shot down like a dog. Unless you found your way out to the Seventh Realm.
 It's safe to say I'd like some revenge..
 I am called
One foot in the system, one foot in the grave as so to speak.
Courier specialist
You need something out of the city? 
We got you covered.
It'll be a hefty price, however.
 X 
- WEAPONS OF CHOICE - 
 PRX- 99. Rapid Fire
 DNA-fused PR 707
|
Heat Seeker
Armor Piercing
Ricochet
 Canid .90 
" Beauford "
The Factions lost one of their attack dogs to the hands of a reprogrammar. Damaged as it was, it was salvagable and to this day serves it's two masters.
Zephyros 
His partner in crime.
They'd known each other in passing before the Faction had taken over. Then they'd made a pact and joined forces working beside each other. They made a formidable team, one looked to notoriously for their skills. 
X 
- Pain receptor control 
- Neural transmitter
|
Deaf - Brain implants
 x
During the Massacre of 01, in trying to save his wife from her ultimate demise and going against direct orders, Atlas was caught in the blast that took out over two hundred people, but being on the outskirts he'd caught extensive damage but not enough to have him listed as one of many of the deceased. There was time in the tank to heal him, time that healed him mostly all except for the permanent hearing damage leaving him deaf. A Neural transmitter implant took care of that problem, except during the storms along the Seventh realms. the storms caused static among many electrical devices and often placed him back at being deaf. 
x
Sign language
|
Reading lips
x
Part of his other augmentations is his ability for pain receptor control. Something he stole from the underground layer and had put in as a blocker. Most people didn't have this installed for it was cause for danger when you couldn't assess your own injuries, but Atlas was only interested in the enhancement of his adrenaline which had him lasting longer in a fight without the pain to stop him. 
x 
Enhanced Duration
x
Smoker
x 
Drinker
x
Drug Addict