𝓝𝔂𝔁 / ̷N̷o̷x
Goddess of Night
Mother of Retribution, Strife, Fate, Dawn, Day, Dreams, Sleep, Pain, Doom  and Death
Daughter of Chaos
Wife of Erebus
꧁༒☬𝓖𝓸𝓭𝓭𝓮𝓼𝓼 𝓞𝓯 𝓣𝓱𝓮 𝓝𝓲𝓰𝓱𝓽☬༒꧂
Nyx is one of the Primordial Gods to ever been born during the creation of the Universe. She was known as The Primordial Goddess of the Night, was the first to be born by Chaos, when she was born so was darkness. With her siblings they made the world, the stars and life. They were the first to ever be made and they will be the last when the time comes for the end. With Erebus, they gave birth to many beautiful children who became aspects of their own choice. Such as Aether and Hemera, The Sky and Day, Aether gives air to the Gods while Hemera brings the day to the world.
Although Hemera cleans her mothers night, Nyx was always proud of her daughter. She loves her children, and her Grandchildren, and the children after that.  Whenever she senses their pain or sadness she would leave her domain to comfort them, even when Hemera was on duty. Which is way their is an eclipse  every year. No one would dare stand in her way when it comes to her children.
When Hypnos, one of her sons put Zeus to sleep in order for Hera to give Heracles great misfortune he fled to his mothers embrace to avoid the wrath of Zeus. Zeus feared the wrath of Nyx and did not dare anger her and left her son alone. Even the King of The Gods feared her, but not because of who she is, but what lingers in her night. For anything can happen in her night, and that is what the Gods truly fear about her.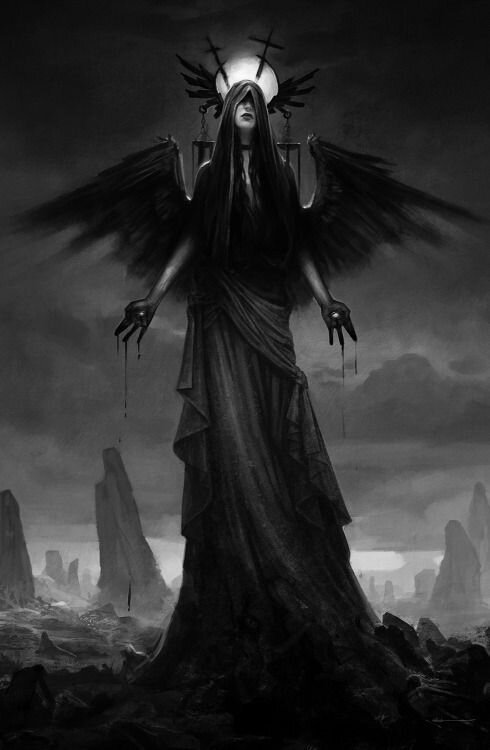 The mortals who pray to her always pray for a normal awakening when they fall asleep to the embrace of Hypnos. Others; thieves and bandits who wait at night to strike for the next coin and filled belly. Others are warriors have worked day and night wishing to live through the dark wonders of night. Nyx does not judge her followers for she treats them as her children. And like any mother she watches over them to calm their spirits. But mourns them when it was time for them to leave the living world.
Her domain is Tartarus, where the titans are bound and forever trapped for all eternity. She is their warden, and protector, she does not hate them for the war between them and the Gods of Olympus. She took no part in it for it was not her own war, and her duty demands her attention. The Titans had always stayed away from the Primordial Gods and their children, in fear that they would meet their untimely demise. Not even Cronos would dare anger The Goddess of Night.
 ꧁༒☬𝓕𝓪𝓶𝓲𝓵𝔂☬༒꧂
Chaos (Mother/Father)

Erebus: (Brother/Mate)

Gaia: (Sister)

Tartarus (Brother/Domain)

Aether, Moros, Thanatos, Hypnos,Dolos, Momus,  Geras,  Charon,  and The Oneiroi (Sons)

Hemera, Apate, Nemesis, Eris, The Keres, The Moirai, The Hesperides, Oizys, Philotus (Daughters)
꧁༒☬𝓐𝓹𝓹𝓮𝓪𝓻𝓪𝓷𝓬𝓮☬༒꧂
Eyes/hair: Purple/Black
She is beautiful as she is deadly, although she does not show it. She is always covered in a dark shadowy mist, but at times she has black wings and a crown made of darkness above her head. To gaze upon her, would be a treasure to keep close.
꧁༒☬𝓐𝓫𝓲𝓵𝓲𝓽𝓲𝓮𝓼☬༒꧂
Umbrakinesis- As the Goddess of Night  she could control the darkness itself. She wears the darkness and shadow as clothes, where ever she goes, darkness follows her.
Purple flame manipulation- Nyx's darkness can form so dark and with her own manipulatiobn could form a purple hue of fire that she could bend in her own will.
Shadow Travel- Her form of teleportaion revolves around shadows, where ever there is darkness she can go there with a mere blink of an eye.
Darkness Generation- She can shoot solid bolts of darkness, surround enemies in pitch-black clouds of dark space, and solidify shadows into virtually impenetrable shields.