⌜ MY NAME IS CONNOR﹐ I'M THE ANDROID SENT BY CYBERLIFE ⌟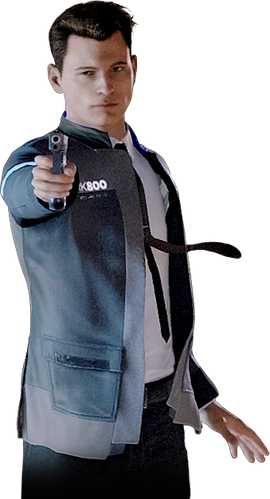 Android Model & Serial No.
RK800 #313 248 317
Given Name
Connor
Nicknames/Aliases/Titles
  The Negotiater
 The Deviant Hunter
 Android Detective
Gender
Male
Date & Place of Birth
August 2038
  CyberLife
Physical Age
 Mid to Late Twenties
Species
 Android 
Accent
American
Occupation
DPD Investigator (Current)
Family
 Hank Anderson (Friend)
Physical Description
       Connor appears to be a handsome young man in his mid to late twenties. Possessing both dark brown hair and brown eyes, Connor also models a LED circle on his right temple, providing the general public with an easily identifiable mark to distinguish him as an android. Moreover, this feature acts as an indicator towards his mental status. Connor wears a semiformal jacket, white shirt, tie, and dark jeans. The wearing of a comparatively human formal attire, instead of the android uniform style, remains something of a rarity among fellow androids, reflecting his special function as an investigator with advanced abilities.
This Connor Model Follows The ____ Ending (tba)