⒞⒣⒜⒭⒜⒞⒯⒠⒭ ⒫⒭⒪⒡⒤⒧⒠
☣Codename: Redcell

☣other names: Drake, RS839, monster, The Bloodhunter, infected, Zompire

☣Experiment Number: RS839
☣Age: 25 years old, ageless
☣Bloodtype: A+
☣Eye color: Hazel
☣Height: 5ft 10inchs
☣Weight: Average/Athletic 
☣Occupation: A hunter and assassin for Murfield, normally
an actual Bioweapon experiment from them. Also, a bodyguard working at a rave club. Which is owned by a local crime lord in NYC, which Drake doesn't know about this kind of things.

☣Speices Type: Zompire/Infection/Human Hybrid known as Bloodhunter/Redcell virus

☣Speical Ability's/Skills: Rapid Healing Factor, Arms can shapeshift into claws or a long bladed weapon. Superhuman strength, speed, endurance, and heightened senses such as night vision, raptor vision, and heat vision. Can hack into any computer or high-security system. Able to analyze blood type to identify any certain type of creature. When drinking blood from a creature, that creature with soon die off or get a poisonous illness which is treatable. He isn't a normal zombie so resurrecting a person into a zombie or them changing into one isn't possible. There is a special ability that he can heal a person's wounds, which is kind of unknown to Drake and the actual creator of the virus.

☣ Other Ability's: Drake is able to control infected monsters or undead ones to do his own bidding. But when an infection gets out of hand, he chooses to eliminate his followers.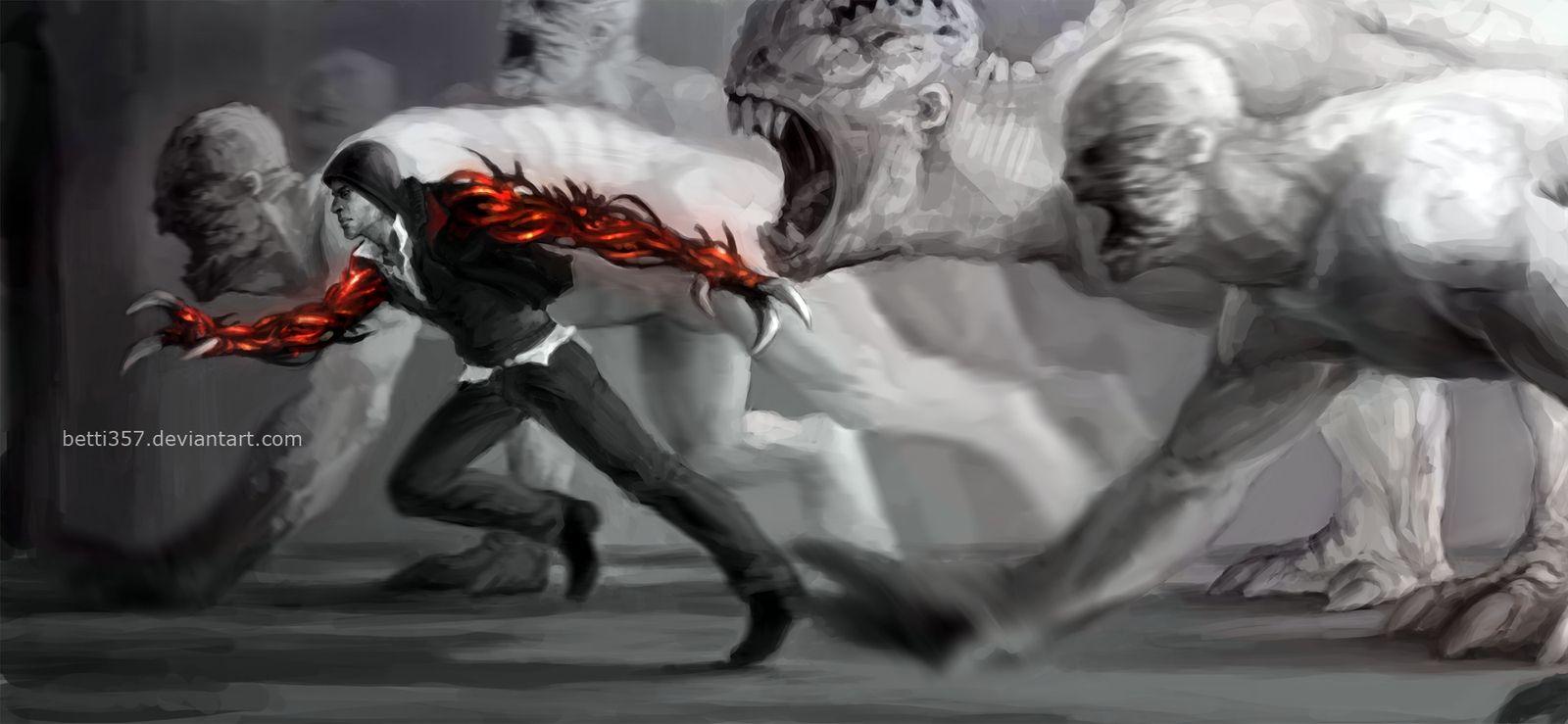 ☣ Heated Ground Spikes- With enough energy and blood-consuming drake can create a powerful explosion of heat spikes from underground. If it's to ward off people, protects against heavy projectiles like a shield or to kill anyone who would come across him.
☣ Disguise: Drake is able to take shape into any human form, when drinking their blood. Having all of their skills, voice mimcry ect. Including his original attire that he wears can shift at will into his civillan clothing. So he can able to hide his monsterous hooded appreance from regular soiceity, and away from other corporations as well. 
☣Aura: Deep reddish black color
☣Personality: Drake doesn't trust humans that much since he's been over through experiments from them. He is more overly protective, and highly aggressive if he's been threated or prevokt in any way possible. Somewhere inside him, Drake dose has a kind heart and caring personality, if he chooses to act like it. But all and all Drake as well has a sense of slight dark humor, including acting like a gentleman to the woman. acting teen rudeness like sometimes dose this because of boredom.

☣Sexuality: Purely Straight
☣Relationship Status: Single And Not Into A Full Relationship!
☣ criminal record: murder, assault, and battery, theft, vandalism, breaking and entering.
Likes: animals, drag racing, dark creepy places, silence, reading manga, blood packs/blood, watching horror movies, rock music/Heavy Metal.

dislikes assholes, hospitals and needles, police, and FBI, Murfield, Reynolds, becoming an experiment, Loud noises which he got used to over the years.

⒡⒜⒞⒠ ⒞⒧⒜⒤⒨
☣----> Jensen Ackles/ / Alex Mercer Prototype
☣ Family Relationships: Scott Salvoter (Deceased) Lisa Salvoter (Deceased) Sisters/Brothers (None- Only child)
☣ Bad Habit's: Normally Smoking, Stealing inside stores, going to drag races at night.

⒲⒠⒜⒦⒩⒠⒮⒮⒠⒮/⒧⒤⒨⒤⒯⒜⒯⒤⒪⒩⒮ 
Unable to drink blood for days will make the host grow weak, and unable to control it's hunger. The host will throw up blood uncontrollably, and become it's own monster from within.

Iron or gold will make the host unable to use it's ability's or shapeshift.

Antivirus or vaccines, it will cause the host to be sedated for hours including creating a numb like paralyzed state. If given to much of the Vaccine will kill off the host and virus completely.

His shadow will cast a monster like appreance if he's in his normal civillian state or in disguse as well.
  ⒨⒪⒩⒮⒯⒠⒭ ⒡⒪⒭⒨
⒝⒜⒞⒦⒢⒭⒪⒰⒩⒟ ⒣⒤⒮⒯⒪⒭⒴
Born in a rough neighborehood, were all you had is textbooks and a family that were always working. They never think of taking care of their son, since they hired a professional nanny. Drake Salvoter, had no friends or anyone to have around but the Nanny a young 27 year old, was around she was like a mother to him. Before long years of studying to go to school, including highschool. Drakes life had became more and more difficult. Going into the wrong crowd, smoking and getting into further trouble. Him a group of friends, had overhead that people were beginning to disappere on the news. Drake and his so called friends didn't belive this, until one day. Drake had dropped out of College, which made both of his parents grew deeply pissed off. They both took the young kid age 25 into the basement of their house. Having enough of getting into trouble, they decided to go through some experiments with Drake as their early test subject. Finding out some dead bodies which were sprawled onto the floor. He soon found out that his parents were the kidnapper's and scientist's working for a company called Murfield. Being injected by a red serum named RedCell, Drake had overcome some changes. Growing a strong heavy side effect for craving warm human blood. Mr. And Mrs. Salvoter, had decided to take their son to the undergrounds of Murfield for further testing. Seeing that his DNA Strain and changed drasticlly, into a virus-like zompire, all of the employee's and his parents decided to agree into quratine Drake from others and the world.

Days including weeks had went by, Drake started to go into the processes into becoming a pure dark monster. He went on a deranged rampage,escaping through the strapes the operation bed. Drake felt the virus inside himself streagthing up, until his left arm shifted into a long blade. Having killed 20 scientist's, guards including his own parents. The young man soon was about to escape this hellish life, until Murfield agents came in with guns. One of them made Drake an offer, of starting a new life and becoming a long time assassin, for agent Reynold's. While in this new life, Drake was able to hunt feed and live his life alone without anyone to bother him in his life work.