P O I S O N   S A V E S   B L O O D.
- Heinrich Wilhelm Schultz, The Cleanser.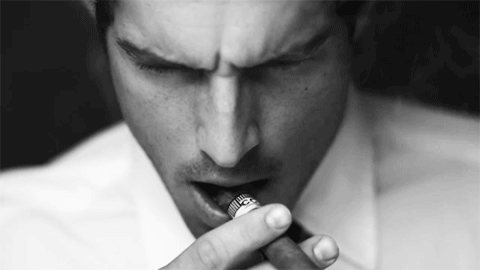 The Serpent is a reptile of intellect and utter intelligence, whose bite is significant and worthy of a praise, for it does not halt its own stampede once it has latched on to its variable host. Its poison harbors the toxins of an elegance that deprives its subject of life, of the essence to hold within the desires and longings of passion and fervency. Hold not its rattling, constant rebounding, nor its fangs and talons of oppression, nor its defined and riveted textures of delight and delicacies. Once it grasps your soul, it does not remove itself from its victim.

Fear The Serpent, loathe it, esteem it, treasure its sins and demands.
Fear not its bite, fear not its strength, fear not its camouflage, fear not its boundaries.
Abstain yourself from its commands.
Never let yourself be perceived by its Spheroids of Slits.
Comprehend that no Tree of Malevolence or Benevolence shall ever surpass that of The Serpent between its branches.
Consume its venom, drink its nectar of comprehension, savor its teeth, never dispose of its carcass.
Favor its agility, its demeanor, its astounding negligence before fright.
Accept and welcome the arrival of its beloved instinct.
Heinrich's spirit animal is that of a snake. A snake is the representation of the Devil in the Bible, a reptile capable of strangulation and poisonous bites; these reptiles, in general, consider themselves to be incredibly superior to other beasts because of how selective they can be when it comes to engagements. Given how intelligent they are, they often outsmart their foes, even when outmatched, which is a clear representation of how Heinrich operates since he plays by these rules closely.
He analyzes, devises a plan and then strikes at his target's weaknesses.
There existed a Pacifist, a melancholic individual,
A Man of Gentility, whose Echoes of Remorse bestowed him of a Burden.
He had persisted in Wars of F utilities, in Wagers of Conflicts, in Benevolences of Malevolences,
For he had been whispered, by such a damsel, of a rigorous benefit, yet so, after a Period,
No man could ever recognize his own Tyranny.
- J.S.
Quotidian behavior;
A  G E N T L E M A N   O F   T H O U G H T

To think was to ponder, yet to ponder was to analyze. It was a surreal manifestation of incomprehensible attitudes, the life of a human being that went by the accordance of the name of Heinrich. He was weak-minded, ill-minded, corrupted, yet also superficially wounded as a figure of exemplification. No man could cope with a mind like his own, nor could a female envisage herself within his orbs for even the merest of seconds. He thought of what others had regarded as the unthinkable, as the imponderable, as enigmas embedded and intertwined with each other, awaiting the examination of one who had ventured from the depths of an unknown crevice situated between malignancy and benevolence. It was a carefully stitched wound, that of his mother, a memory long-forgotten, grasped as remembrance only in circumstances that allowed it.
What came next, was only the arrival of Hell, of him, of the Devil.
Of ...
            The ...
                                  Serpent ...
And ...
                                               With ...
                                           It ...
                                                            Came ...
N O  P E A C E.
If one thought, one could profess a truth when there was none! If one thought, one could participate in the bewilderment of others! If one thought, if Heinrich Schultz thought, one could potentially infect the wound that he had concealed from sight! Alas, there was no thought, no analysis, no credible hypothesis, not a singular sign of a conclusion, for the man that thought was none other than a devil flustered by the presence of others. A hand twitched, a lip was smeared of crimson, a lie was issued, and so the intentions of the man of thought were informed to the public.
All this blubber and the confusion persists
in the abstraction that is the mind.
He was a disaster, a chaotic outcome with no resolution, a spiraling flame that ended in no submissive gust. The incongruity was ravenous and ferocious, but so was the ambience that had surrounded him. It had all led to this very moment of change, of passion, of adjustment, of maturity, a moment he had not forgotten in the lands that he had coursed throughout the entirety of his life.
He had screamed mother!
However, no mother had replied!
For he had no biology!
But only tragedy.
A P P A R E L  &  A C C E N T U A T I O N S
In times of reconciliation and harmony, Heinrich possessed the casual, yet also superficially sophisticated, elegant attire of the contemporary epoch. Fashionably tailored and presented, most of his shirts and top-section, upper-body clothing shall have the characteristic, yet also very distinctive, color of the immaculate white, of the reflective pearl that gleams at the gentle caress of the radiance that perceptibly surrounds and embraces it with tantalizing atmospheres and ambiance. They had been of long-sleeves, decorated by the centralized buttons to tighten and adjust the shirt correspondingly, made out of an expensive textile or fabric especially designed for Heinrich's own comfort and sooth. His lower-body, under-section clothing had been simple, efficient and enduring pairs of working, obscure or patterned pants with suspenders attached onto their superior, principal edge so that they did not face the possibility of ever falling in his treading.
 A  G E N T L E M A N  O F  T A L E N T S
An Observer
A Pianist
A Painter
A Professional Hitman
An Intellectual
Taught at an early age, by the years of five, Heinrich was under surprivision, everyday, by his grandfather. He was taught the art of the pianist, an art unforgettable by those who truly appreciate the touch of a man's fingers over that of a soft and illustrated key, or note, whose filaments are stronger as they vibrate and reverberate with ease. Each day, each week, week month,
each year, Heinrich was continuously probed with the knowledge of a pianist, until he had managed to compose a piece of art, all by himself, in the quarters of the farmhouse, in the livingroom, next to his grandparents. There had been days where only he would play for himself, for the instrument beckoned him to touch her, to touch her beautiful, softened keys of ecstasy and pleasure. It hadn't taken him nothing to accustom himself to the beauty of her caress.
As other talents came, the desire for the piano slowly went in a decline, but it never faded. Another art surged, being that of the illustrations, of the capability of holding a pencil and drawing over a canvas with a diverse and numerous selection of colorations, varying from all the crimsons, to all the greeneries, to all the sapphires, to all the blacks and the immaculate. But, for Heinrich, the only colors that he saw were the black and the white, and none more, for his grandmother had whispered into his ears:
"The unseen beauty is the most marvelous, child."
         Therefore, Heinrich only paints abstracts of what he visualizes, as well as portraits, landscapes and, preferably, when with an age, women without their dresses or coverings. It was all for the art, for the passion within the boy, the teenager, the mild adult, for him, for Heinrich, and none else.
But, as time passed, and the grandparents were no longer, he withdrew from all these pleasures and dedicated himself to the study of himself, and of other subjects which guided him to the understanding of life, of itself, and of the unknown, of such a knowledge that only few understood and comprehended. Heinrich became a ponderer, a philosopher of the mentality of others, one who corrupted others with the simple use of mind-play, a tactician's tool for destruction and pleasure.
Yet, as he also destroyed minds, he also inserted projectiles into the bodies of others for the mere sensation of a gratification. He was a personal killer, one that sought the blood of others, the vile blood of the living. He only utilizes the Luger for close engagements, or that of a long-range rifle, his customized Kar-98K. Not a single thought is given to the kill, for the kill draws the blood, and the killer produces it, willingly, without the everlasting consequences of the death.
A N  A V I D  P R O F E S S I O N A L  K I L L E R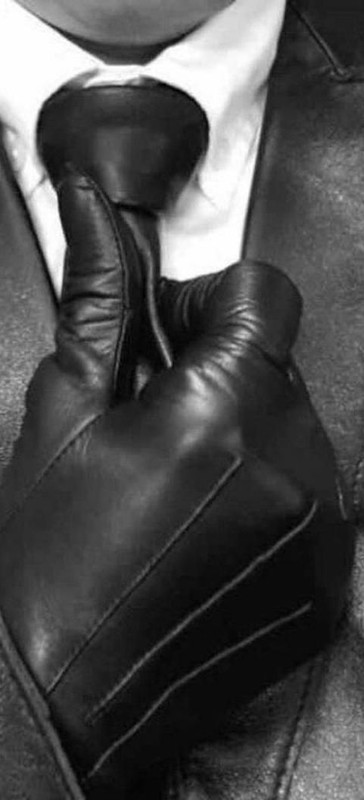 "It was a dependence upon a me,
A characteristic poison that slithered along my lips,
One that I could not ever deny of its existence, no matter the circumstance."
"I was not evil, I had not been corrupted, I had only started to release the world,
To release the world of its own vile nepotism, of its sources of malfeasance." 
"Mistake me not for a criminal, but for a vigilante, a male of self-respect that values the lives of the innocent, of the credible, of those that hold truth by their hearts, by their vivid consideration of benevolence."       
"There had been a longing... a longing for blood."
After the completion of the confrontation between countries and men, Heinrich, designated now as Matthaeus to evade the persecution of the Nazi's and the Trials of Nuremburg, educated himself properly with the art of death. The desire that possessed the gentleman surged due to his views on the wretched society of individuals that surrounded him at every given interval of time.
Each day, after securing himself in the United States of America, he vigorously trained himself with the mentality of terminating every soul that was impure and vile to his Spheres. As time progressed and pass by, he grew exponentially stronger, agile, dexterous and swift with the art, proving to be a quite difficult individual to take down if opposed by another.  Due to his dedication, he strengthened his muscles, his physique and his mind as well, growing severely mature and tactful with the years.
Recently, there was a change, an alteration, a modification that ended up, for his good, introducing him to another talent, the ease of removing from the phases of the Earth the species of Vampires. This, of course, was taught only by the majestic and ironically coincidental Vampire, Ekaterina Vakhrov, a good ally of Heinrich that he met in the 1950's in Italy as he was hiding by himself. Because of her, he obtained the knowledge necessary to eliminate her own kind, with ease, with no difficulty at all. On the other hand, the male has not applied his skills in the field with any possible vampire victim. He is, however, tracking one down.
T H E  C O D E 
Like most killers, Heinrich has a code that he follows when he is either about to justify the torture or death of an individual in his grasp. These are the following principles: 
1st Rule of the Code: Never get caught. Heinrich must never be caught committing a crime that would result in his imprisonment or imminent death. In scenarios where an innocent being (refer to the 2nd Rule) discovers Heinrich's doings, he may seen forced to kill he or she in order to conceal his identity. 
2nd Rule of the Code: Never kill an Innocent. Heinrich must be absolutely certain that the target has committed a profound sin, who either takes life for no condonable reason, adulterates, steals or covets the possession of others. Heinrich heavily follows the Ten Commandments in Exodus 20:2-17. 
3rd Rule of the Code: Targets must be killers, thieves, adulterates, etc., who have evaded the justice system, although this rule is often disregarded by Heinrich. 
4th  Rule of the Code: Killing must serve a purpose, otherwise, it's just plain murder. (Refer to 2nd Rule) 
5th  Rule of the Code: Fake emotions and normality when at all possible. 
6th Rule of the Code: Be prepared. Leave no evidence of your torture sessions or murder. 
7th Rule of the Code: Stay calm and collected. Do not ever panic. There is always a solution. 
8th Rule of the Code: Don't make things personal because it clouds judgment. (Refer to 5th Rule) 
9th Rule of the Code: Use women for your own benefit. Do not let yourself be blinded by them.
T H E  M O D U S  O P E R A N D I 
Like most killers, Heinrich has a technique or an M.O that identifies him. His methods revolve mainly around torture, stealth and the usage of speech. When his targets are caught in the web of distraction and destruction, he moves onto other staunch practices of the craft, which only concern executions and the disposal of the body; at times, he mutilates the bodies to his taste and preference. Up next is a list of his technique: 
1st Technique: He will always involve religion in his killing and will force the victim to familiriaze themselves with his religion.
2nd Technique: Knives will always come to the equation; the victim will either be sliced or stabbed, either to death or to a state of incredible injury.
3rd Technique: If the victim were to be a male, he will be shot to death after strenous, agonozing torture. If a female, the woman shall be raped, tortured and then bled to death, usually by a stab wound.
4th Technique: Heinrich utilizes medieval torture devices to have his victims suffer.
5th Technique: Heinrich utilizes piano music during his torture sessions to appease his masochistic tendencies. If he weren't to listen to piano compositions, he'd lose it quicker than the usual and the victim would likely die a more painful death.
6th Technique: An adaption of mockery -- he has gotten used to leaving Ace of Spades on the bodies of his victims with a fake signature of his.
A  L U R E   F O R

They did not understand. Everyone did not understand. One could never understand . . . the motive, the reasoning, the logical process, and none would ever, for it was an enigma hidden within a mind unbreakable by humanity.
Heinrich, or Matthaeus, was, and is, a man of a perfect conduct, with only a mentality for women, and never for men. He is a gentleman before all, and this is, gentlemen and women, the lure for. The man allows a gentility to overcome the woman, her knowledge, her passiveness, her personality, and it latches onto it, vividly, in a synchronization of ardor. A conversation is then ensued, a theme is provoked, eyes are locked, virtues are broken, and fornication is then committed. But, you will never understand, nor will you attempt to, for you will be found dead if you corrupt yourself
with the ideals of a paradox. Meanwhile he fornicates and cleanses the world of its impurities, Heinrich becomes a paradox himself, a contradiction that lives on and perpetuates itself for all eternity in the void world of nothingness.
You see, but you do not perceive.
Once done, it all commences again. He achieves the knowledge, the learning, the education, the significance of a life, and debauches it. You would not understand how it functions, nor how it operates on its own. It is a mystery, you see, but you don't see. Do you visualize the lure in front of you? Do you acknowledge the gentility that has been put at your front? He will destroy you, he will annihilate you, and he will quench his thirst once it all comes down to one thing: you. You will not see the light of day, the darkness of night, nor the twilight of both, nor the eclipses of nature, nor the perch of a bird, nor the growl of a leopard,... only the hiss of the serpent. Beware, beware, for he who does not fathom the desire of the gentlemen is one known to trigger his own downfall.
T H E  E V E S
Mr. Eves and Mrs. Eves.
The Incestuous Twins.
The Couple of Intelligence
Evelynne Gwen Eves
Homo-chromatic hues, a sphere of brown, a sphere of blue.
The age of a dreadful female, the thirty's.
Golden mane of elongated filaments.
Creamy dermis of innocence.
-
'When one observes her eyes, one swears upon;
they're innocence, they're hatred,
they're a mixture of irresolute outcomes.'
Anthony Howards Eves
A normal vision, yet a worsened perception of an ear.
The age of a dreadful male, the thirty's.
Golden mane of shortened filaments.
Creamy dermis of innocence.
-
'He listens, he listens carefully, but never too cautious,
for he's a listener of an ear, yet a silencer of another; 
beware them.'
They're a mystery.
Nobody knows.
         It was a brief call, a connection of telephones that set a line between Heinrich and them, The Eves. It had been unexpected.
Heinrich belonged with them, so they thought, when he had emphasized the contrary.
Conspiratorial Agency.
Ultimate Intelligence.
Hacking capabilities.
Monetary Handling.
B U N D E S W E H R
Unified Armed Forces of Germany
Founded 1955, during the Cold War
He was in Afghanistan from 2001 to 2014, in the war of Bosnia in 1995, in the war of Kosovo from 1998 to 1999 and, finally, the most current war, the war on ISIL ( Islamic State of Iraq and the Levant), where his current service is based upon in any present-time role-play. His friends also serve along him in his very own squad, making up a total of five men, including him.
With that settled aside, moving onto the details, Heinrich is a
Principal Lieutenant, or simply an Oberleutnant in German. His rank dictates his ability to command those below him and the amount of experience he possesses. He is very well trained, very well disciplined and very well instructed, which translates into how deadly the man really is in a situation of intense combat and stress over the body. 
The standard Bundeswehr soldier has an arsenal of the following items: Heckler & Koch USP Tactical P12 Pistol, all known variants of the H&K G36, especially variants K and C, the HK416 assault rifle, the Rheinmetall MG3 machinegun, Panzerfaust 3's and, of course, the mighty grenades, the DM51 hand grenade. Heinrich, however, only utilizes his customized HK416 alongside his augmented P12 pistol, with obviously a few grenades to cover up the gaps. His allies, those in his squad, hold a variety of other tools of war that facilitate life on the battlefield.
T H E  W E A P O N R Y  O F  A  G E N T L E M A N
E k a t e r i n a  u n d  V a k h r o v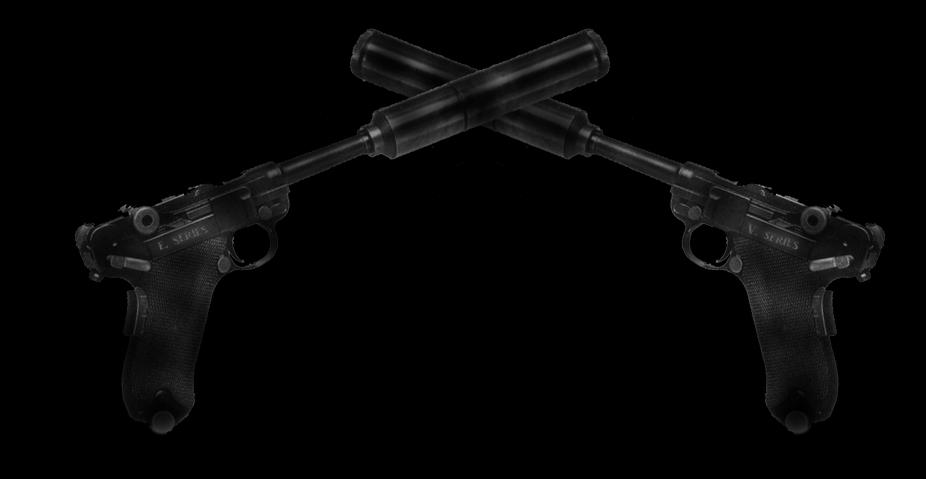 With this responsibility, came, of course, the need to improve his arsenal weapons. Having already a secondary Luger pistol with his primary one, he converted these two into a new variant which he designated as Parabellum-Pistole 1908 Mk. VI - HeTT. He painted them black, completely, changed the grip to its metallic appeal while still remaining with its wooden composure, and re-did their ejection mechanism so it would be capable of firing even faster than before with less of a recoil effect. Afterwards, he engraved them each as, from left to right, Ekaterina and Vakhrov, after the very woman that trained him.

Their protuberances, or silencers, are entirely a disturbance for the male to wear in the usual, common, waist-type holster, and because of this they are carried underneath his always-worn trench-coat or tuxedo by the aid of their own, downward-facing holsters, which are carried by a harness that goes around his shoulders and across his neck to impede their fall and assure their security and ease of access.
List of Modifications installed:
- Sound Silencing Apparatuses
- Heavy barrel for added impact and travel speed of bullets
- Extended, six-teen bullet magazine
- Fast-reacting, bullet retraction mechanism
- Hardened, oak wood grips holding the appearance of obscured, studded metal
- Enhanced, fluorescent, iron sights. 
- - -
I wield weapons of destruction,
triggered by a movement of action,
Where none but the eye can prove that of a fraction.
- J.S.
Z E R S T Ö R E R  D E R  M Ä N N E R
T H E  D E S T R O Y E R  O F  M E N: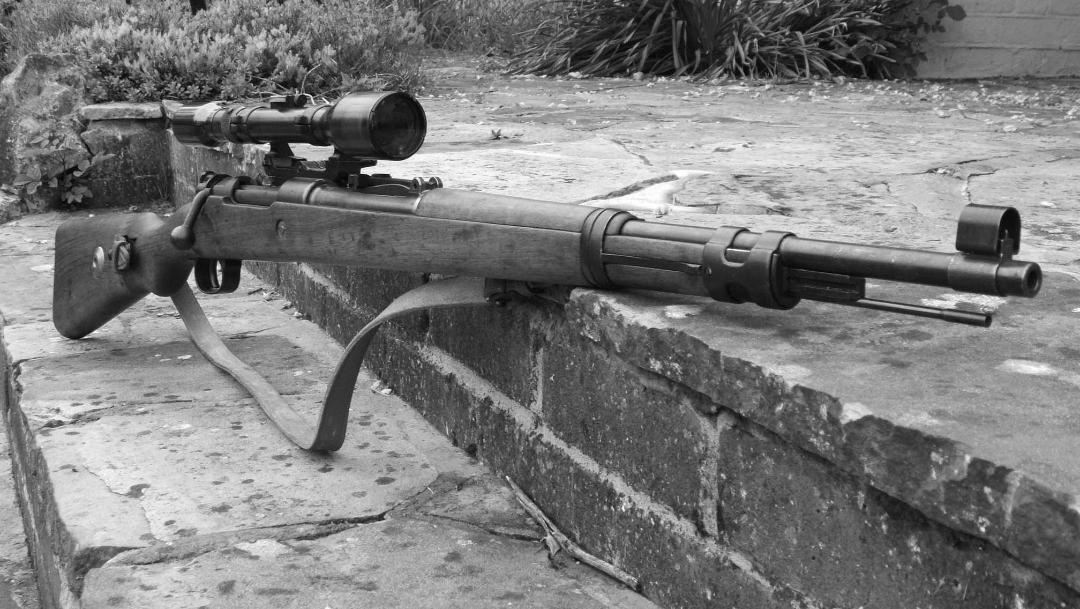 A Kar-98K designated factually by its creator and user. It is an accurate and precise, bolt-action rifle customized by Heinrich himself after the end of the war. He equipped a times twenty-four zoom scope lens on it bolt-action mechanism. He had also switched said mechanism with a new, more advanced one, allowing him to quickly reload the chamber with a new bullet if needed. Besides this, he granted the frontal end of the barrel a flash hider for the purpose of concealing the muzzle's flash upon firing the weapon. It holds a caliber of 8mm mauser.
Modifications Installed:
- x24 Zoom scope with night-vision capabilities
- A 'Pull-Bolt' Mechanism enhancement for the bolt-action function
- A tri-pod for added accuracy when standing still
- Canted, side iron sights for close engagements
- A flash hider
---
No matter the range,

No matter the pain,
No matter the length,
It would always be your final fate.
- J.S.L.
 R Ü C K N A H M E  U N D  Z E R S T Ö R U N G

R E D E M P T I O N  A N D  R U I N A T I O N
T H E  Q U E E N  O F  D O W N F A L L:
Mauser C96 9x19mm Parabellum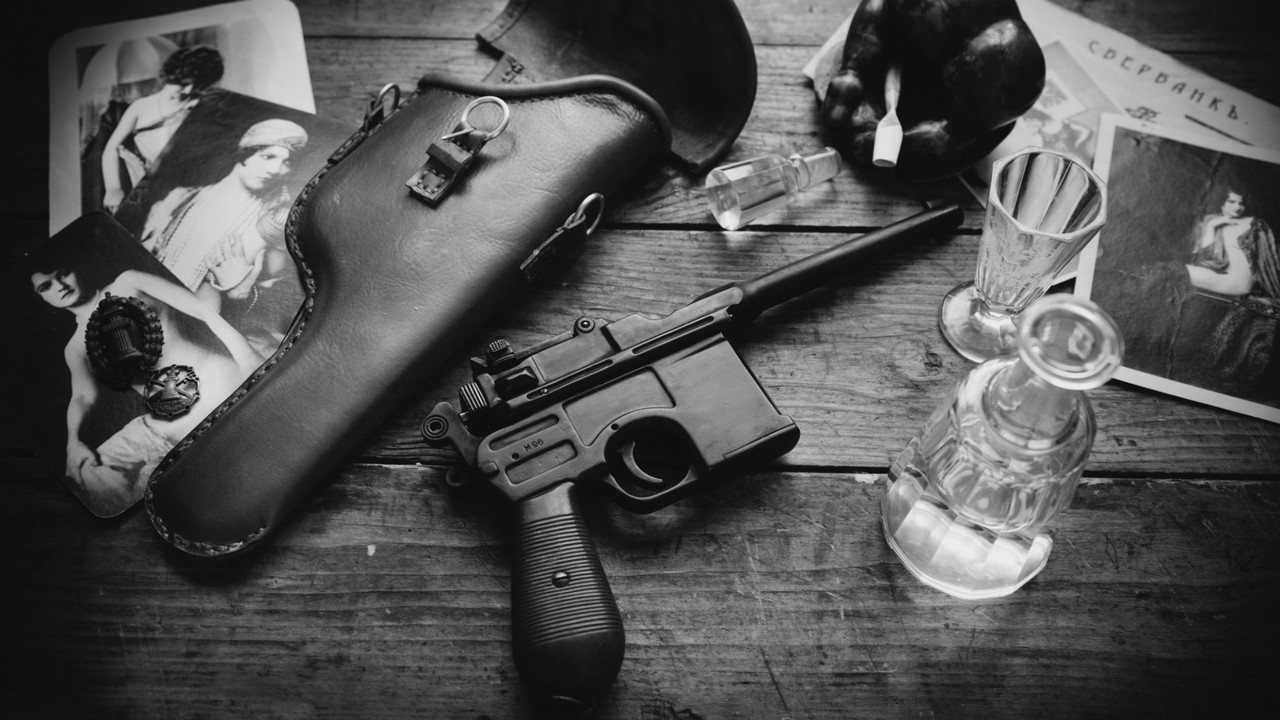 A secondary set of pistols of the Gentleman were put into consideration once he evaluated their proper performance and usage. These C96's are semi-and-fully-automatic pistols with ten bullet cartridges. They are more reliable than the Lugers, although slightly heavier than them, with about the same characteristics of accuracy and precision as the counterpart of them. As the Lugers, when transported by Heinrich, they are stored underneath his axillae in their proper holsters. They are sturdy, efficient guns.
Modifications Installed:
- Leather grips for added comfort.
- 10-round magazines.
- Loading mechanism altered to fit magazines instead of clips from the top.
- Slightly extended barrel for better handling and accuracy and overall damage increment.
- Sound silencing apparatuses
- Enhanced, fluorescent, iron sights.

---
'Twas their might that had bequeathed them their use,
For a sole one could devastate,
but a second could annihilate.
- J.S.L.

D E R  U N E R B I T T L I C H

T H E  R E L E N T L E S S:

Of course, sooner or later, the man discovered the mere pistols and a rifle would not be enough to deal with vampires. Designed especially for the vanquishing of beasts and monster alike, the crossbow known to him as The Relentless was born. It is a precisely customized, light-weight, semi-automatic, cartridge-required weapon with a rudimentary sight. Due to its mechanism, it does not require the user to equip it with a bolt after firing one; it, instead, allows him or her to fire off exactly twenty bolts of wooden stems and silver tips. After the ammunition is expended, another cartridge is inserted and latched underneath the bulk of the contraption. With this design in hand, it allows for a rate of fire of forty-seven shafts per minute.
Modifications Installed:
- Hardened, poly-fiber strings for added power upon impact
- Twenty shaft drum magazine
- Enhance, simple, three-digit sight
- Strengthened shafts with sharpened, silver tips
---
Antiquity had been the subject; 
I had only known of such an object.
It represented the youth of Virgins, as it fired and wrecked.
- J.S.L
B O S H E I T  U N D  S Y M P A T H I E
M A L I C E  A N D  S Y M P A T H Y:

Since the male had always been an expert in close quarters combat, he had decided to craft himself, with the aid of some of his allies, dual, silver daggers that he had named Sympathy and Malice. These blades are entirely capable of decapitating even the strongest of vampires, if Heinrich can manage to find himself that near to his target. If so, the slice of the silver sheet across the neck, applied by some additional, will be enough to severe the head. They are worn on the lower section of his back in their proper sheaths.
_______________________________

T H E  C O N T R A P T I O N S  O F  A  G E N T L E M A N
1 9 3 9  H O R C H  T Y P E  9 3 0  V 8
 P O R S C H E  9 1 8  S P Y D E R  
Chofer of the lovely, alluring and majestic
V A M P I R E
E K A T E R I N A 
V A K H R O V,

known only as
M S.  V A K H R O V.
T H E  T I G R E S S
-
M S .  A L I B I
P R I S O N E R  O F  W A R
A thief is always a thief, no matter the reason, no matter the excuses, no matter the desperation, no matter the amount of gold at present. To liberate the luxury of another for one's own gain was refutable and disgraceful by default. One had dared to challenge The Serpent. The Tigress had ventured deep into the nest of an Anaconda, into the foggy swamps, paws below the surface of the water, suddenly entangled by a monstrosity with talons and slits for eyes. The hiss was produced and the strike had commenced. Stealing from the German and his home gifted this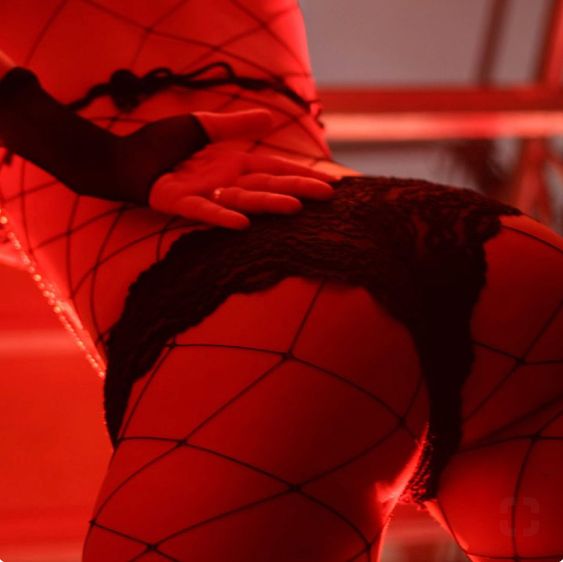 Tigress a life of isolation, imprisonment and abuse without much chance for escape. Heinrich ruled her and dominated her, turning every one of her fibers into utter frailty, corrupted and beautifully eradicated, hope never spared. She became a vessel of anguish, of torment and of satisfaction, a morsel to consume only when the German's hunger struck him and depraved him of all sense and logical reasoning, for he could not ponder on his actions. Instinct betrayed him and worsened her condition. Yet, she did not reside within; heaven sooner than later shone upon her when he promised her to change her, to remove her habits of a thief, of a burglar, of a hand that picked at the pockets of others for self-advantage. He would not allow her to seek such a low life as the aforementioned. Unfortunately, she did not easily learn; his methods proved to be too forceful and violent,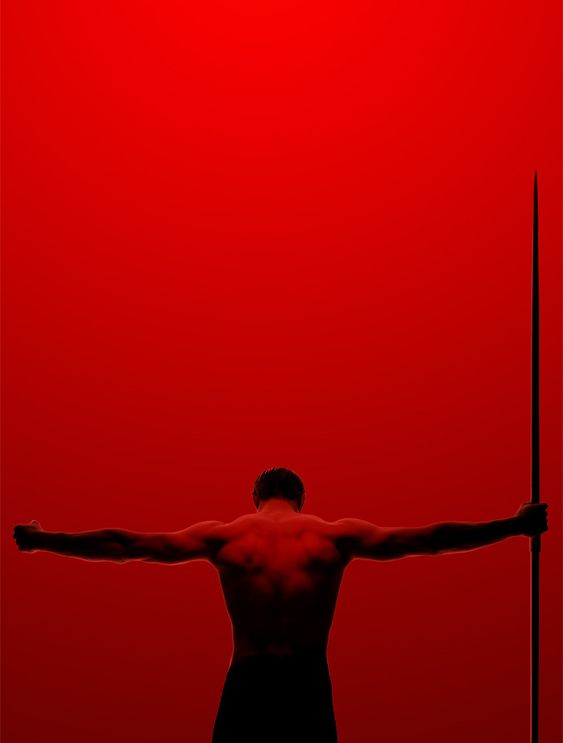 eventually producing a grave toll upon her, destroying her will to exist, to live, to carry onward through the valleys and the plains of reality. It is then that he retires from her, maddened by her ignorance, her powerless, to focus on another quarry, a Russian whom could not last a day in the German's grasp.
The breather, while appreciated, would not benefit the Tigress for too long. Heinrich understood that, to have the life he aspired to enjoy, he could only manifest it throughout his one and factual prisoner, not through the heart or body of another. The Russian would not suffice. Spheres of Sapphires had been directed toward the woman in her room and he had no quarrel against the motives. If only love had not interfered with him and his intentions.
BANG


...
......................
............................................
....................................................................